Welcome to the Wayel service area
Customer service for electric bikes is extremely important to us. Quality and reliability of our brand are reflected in the efficient network of specialized dealers, located throughout the territory. We have competent staff, able to ensure a qualified service to assist you in the purchase and in the post-sale service. The dealer, in fact, continues to follow you even after the delivery of the vehicle, to make sure that everything is all right.
In this way you will be able to enjoy the model you have bought for a long time and, thanks to continuous training, our specialized dealers will also be able to offer you the necessary technical assistance after the purchase and help you in the right choice of spare parts. Our dealers are at your side even after the delivery of the vehicle, assisting you in case of problems whether your vehicle is still under warranty, or whether it is out of warranty.
We remind you that, from our download area, it is always possible to download the instruction and use manuals dedicated to bicycles, to the displays available in combination, to scooters and scooters.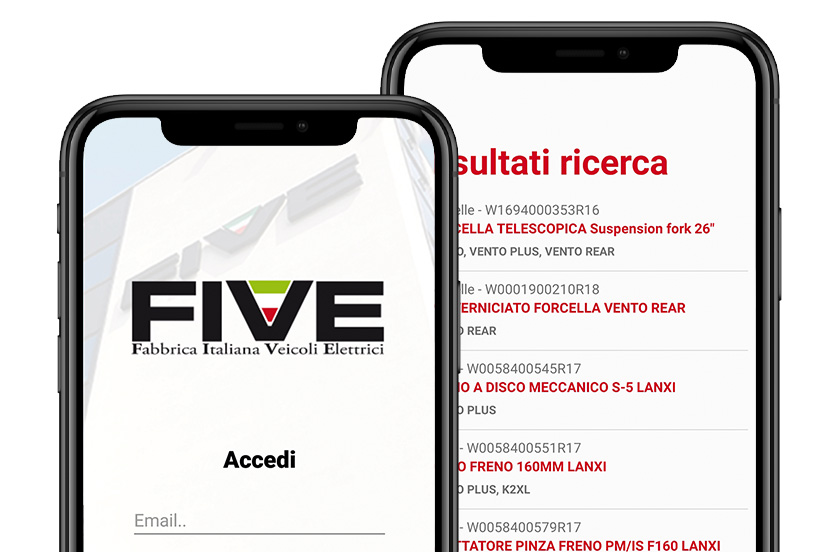 App FIVE
An app to request assistance, download manuals, and look up the dealers' spare parts catalog.
Customer service is at your fingertips with the FIVE Technical Assistance app. With a smartphone or a computer, the retailer always has all the information on products availability, directly online both when he is in his shop and outdoor. Here you can download the app for Android and IOS.