NEXT SPORT
Competitive at the highest level.

NEXT SPORT
Competitive at the highest level.
Ideal for those who do not accept compromises
The NEXT SPORT e-bike is the folding fat bike, ideal for those who do not accept compromises and want a sports bike to ride on offroad routes and at the same time not go unnoticed in the city. The wide and knobby tires give the perfect balance between performance and agility. Disc brakes and the powerful FIVE F90 motor allow you to pedal on winding roads, even in snow, mud or sand conditions.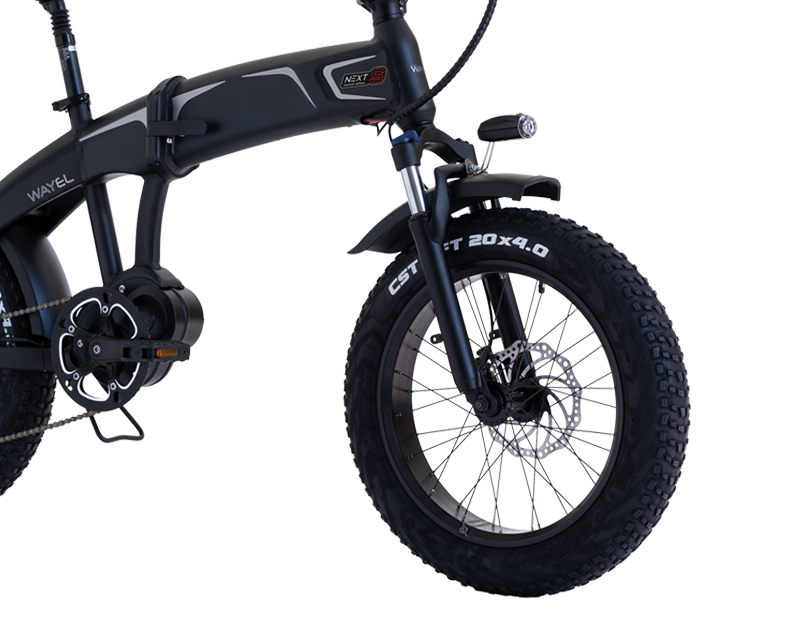 CTS knobby tires
Thanks to 4" wide-tread section, the wheels of NEXT SPORT are comfortable, stable and suitable for every city route and for offroad.
Color LCD display
Color LCD display, which allows to select the assistance levels, activate the soft start and check the battery level. The device is equipped with a USB port to charge your smartphone. It has a dusk sensor, which regulates the luminosity of the display according to light conditions.
Central motor FIVE F90 48V
It has responsive acceleration in the city and is aggressive off the road. Equipped with exceptional boost, F90 delivers power to deal with slopes up to 30%. Extremely silent, it ensures perfect symbiosis between the power delivered and the action of the legs.